7. 'Ethukkittanai Modi Tan' - 'Why this love quarrel?'
In the second ninda stuti composition on Nataraja considered here, the devotee questions Siva's actions toward her, unable to understand why Siva is currently holding himself so aloof. In the pallavi the devotee asks him why he is being quarrelsome and refusing to bestow his blessing, then after identifying Nataraja as the lord of lords in the anupallavi, in the caranam the composer Marimutta Pillai tries to work out how the current state of affairs came to be.
As successive moments from Nataraja's life are recalled, the composer gently reminds Nataraja that he has seen him behave strangely on many occasions – but has always been discreet and has never gossiped to others about it. In the first line he indirectly references a famous dance contest between Siva and goddess Kali where Siva won by cheating, raising his leg up over his head when he knew that Kali was perfectly capable of the same move but, due to her modesty, she would not raise her leg. The composer makes fun of the bull Nandi, Siva's loyal companion and mount, asking Siva why he only has a single useless bull instead of, one imagines, a large herd of animals or other signs of wealth befitting a prosperous and omnipotent lord.
The Discreet Devotee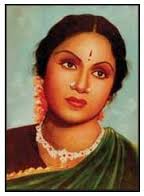 In the subsequent lines the composer references Siva's legendary habits of begging food and eating it out of a skull, or eating leftovers from people's plates, both very polluting activities in polite society. The composer ends all the lines of the caranam with the same verb form 'conneno' – "Did I say anything? Did I speak inappropriately about you?" with the inference that had he wanted to, he could expose a lot of embarrassing things about Siva. But of course as Siva's devotee, he kept it all to himself. The composer passionately argues that Siva should stop ignoring his faithful and tactful devotee, and should shower his grace on his devotee without further delay.
The vocalist for this recording was U.R. Jeevaratnam, a famous actress, producer, and playback singer for the cinema. A beautifully fluent and virtuosic vocalist, she got her start in a stage drama company (like K.B. Sundarambal) at nine and then at age ten made her film debut. As a supplementary resource, a brief video of Jeevaratnam performing (another song, 'Adi param porule') from the 1939 film Santhanadevan shows her singing beautifully at age twelve :
Song 7. 'Ethukkittanai Modi Tan' – 'Why this love quarrel?'
Composer: Marimutta Pillai (ca. 1712-1787)
Raga: Surati
Tala: Rupaka (or Adi tala tisra gati)
Sung by U.R. Jeevaratnam, 1940s
Pallavi
Ethukkittanai modi tan
For what reason are you having this love quarrel
Umakku enran mel ayya
With me, Lord?
Anupallavi
Padhi piraiyai cadaiyil taritta
One who bears the half moon in your matted locks
Paramane tillai pati natesare
Lord of lords, Natesa (Siva Nataraja) of Tillai (Cidambaram) – why this love quarrel?
Caranam 1
Attu kal eduttu ambalattil ninrir adanai conneno?
When you raised your dancing leg in the ambalam (hall) and unfairly beat the modest Kali in the dance contest – did I tell anyone about that?
Otrai mattu karan enru arudan akilum vai matam conneno?
Did I spread it around that you only have a single useless bull?
Talai ottile irandhu undir enranda unmaiyai conneno?
And that uncouth incident where you went around begging food and ate it out of a skull - did I tell the world that truth?
Pallai katti muppurattar munne ninra kadaiyum
When you stood duplicitously before the people of the three sinful cities before burning their cities
Eccil undadaiyum conneno?
Oh, and did I ever tell people that you ate leftovers from other people's plates? (I did not – so why are you having this love quarrel with me?)
Caranam 2
Jatiyum taiyum taghappanum illada taniyan enreno
Did I call you a casteless, motherless, fatherless loner?
Pennil padi udambagi kallumcumanditta paraiyan enreno
Did I tell that you gave half your body to a woman (Parvati) and carried stones?
Jati bhedamai pillaikku kuravar vIttir pen kondirenreno
Without paying attention to caste you took a bride from a gypsy family for your son. Did I say that?
Maraiyodi vanangu natesare ummai nan opparum illada tappiliyenreno
Natesa, who recites the Vedas – Did I say that none equals you?
Caranam 3
Azhundave pirambadi patta kuliyalarenreno
As a coolie (workman) you bore whip lashes that left marks on you – Did I say that?
Tasai kazhinda vellelumbaninda payittiyakkaran enreno
Did I call you a fleshless white bone-wearing madman?
Kattappazham tuniyinrittu oluduttadum andha pazhippaiyum conneno
You sought to wear animal skin – Did I say that?
Ciru kuzhandaiyai kolla kizhavanai vanda kuttellam veli vittu nan conneno
Disguised as an old man, you came to kill a small child. Did I tell all those secrets?
______________________________________
SUMMARY
1. Maraintu Iruntu - What is the Secret?
2. Inimel Avarkkum - From Now On
3. Kaiyil Panam Illamal - Without Money in Hand
4. Ella Arumaigalum - My all-knowing all-seeing Lord
5. Pazham Ni Appa - You are the Fruit
6. Nadamadi Tirinda - You Used to Get About Quite Well
7. Ethukkittanai Modi Tan - Why This Love Quarrel?
8. En Palli Kondir - Why are You Stretched Out on the Ground?
9. Jagajjanani - Mother of the Universe
10. Taye Yasoda - Oh Mother Yasoda
11. Vazhi Maraittu - My View is Obstructed
Musical examples
Sources
______________________________________
By Matthew Allen
© Médiathèque Caraïbe / Conseil Départemental de la Guadeloupe,  2016-2020