Laméca file
6. BLACK PACIFIC MODERNITIES
It would be incorrect to assume that the black inhabitants of the Pacific have not absorbed modern, cosmopolitan musics into their musical lives beyond the religious musics and the marimba music described above. Despite the isolation of the southern Pacific, a number of musical styles and forms have been enthusiastically adopted and given their own particularly local spins.
YESTERDAY
Guitar
The guitar, for example, has appeared in accounts of the Pacific since at least the 1760s, at times playing alongside the marimba ensemble. Little is known about the early guitar repertoire, although it may have included Afro-Spanish dance forms like paracumbé, which resemble current marimba music and jugas in their rhythmic structure.
By the early twentieth century, the guitar repertoire included both international genres such as waltz, fox-trot, and Cuban conga (carnival music) and Colombian national forms like pasillo and bambuco, often accompanied by violins and other string instruments. These genres were also played by a fife-and-drum ensemble called chirimía (not to be confused with the Chocoano brass band described in section 1).
However, both the chirimía and the guitar repertoire also included versions of traditional marimba music and jugas. These guitar currulaos would become increasingly popular and a number of composers in the larger cities of the Pacific, such as Petronio Álvarez (1914-1966) in Buenaventura and "Caballito" Garcés (1916-1995) in Tumaco would compose guitar currulaos that were played in informal gatherings and dancehalls in those cities.
"Mi varita" (guitar currulao) by Grupo Tamafrí
Cuban mambo craze
In the early 20th century, both Tumaco and Buenaventura had municipal brass bands that played genteel music in the city plaza on Sunday afternoons. The young men involved in these bands, however, were also fans of the Cuban, Mexican, and Puerto Rican records that were entering through these port cities, and formed mambo bands, often including guitar players who took the place of the piano. Singers such as Tito Cortés of Tumaco also recorded boleros, son and other cosmopolitan forms.
Some of these groups, most prominently Peregoyo y su Combo Vacaná from Buenaventura, also drew on guitar currulaos, jugas, and even the occasional alabado for their repertoire, orchestrating songs such as guitarist Petronio Álvarez's (1907-2007, Enrique Urbano Tenorio) well-known currulao for a full mambo band, creating a hybrid form which remains innovative to this day.
"Caso del vencedor" (currulao for mambo big band) by  Conjunto Folclorico La Marucha
TODAY
Like the mambo bands of the 1940s and 50s, some colombian salsa artists like Jimmy Saa and Yuri Buenaventura have roots in the southern Pacific. The mix of a cosmopolitan, salsa sensibility with local sounds, as with Peregoyo, has continued to inspire such modern fusion groups as Grupo Bahía, Marejada, Grupo Orilla, and Herencia de Timbiquí.
These groups have achieved a new visibility for Afro-Colombian music both at home and abroad. The group Herencia de Timbiquí, for example, was awarded a prize at the International Song Festival of Viña del Mar in Chile :
"Amanece" (marimba salsa) by Herencia de Timbiqui
"La guayabita" by Grupo Orilla
Festival de música del pacífico Petronio Álvarez, emphasis on black culture
The renaissance in music from the Pacific is tied to the Petronio Álvarez Festival of the Music of the Pacific, held every August in Cali. This Festival, which includes Chocoano music, and southern Pacific traditional music, as well as the new generation of fusions, has begun to give visibility to the music and the musicians of the Colombian Pacific.
The Petronio Álvarez Festival is part of a greater emphasis on black culture that has been seen in Colombia since the passage of a new multicultural constitution, and new laws in the 1990s which recognized Afro-Colombians, and those of the Pacific in particular, as an official ethnic minority group.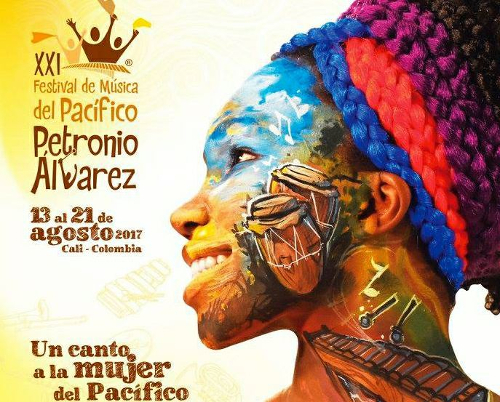 Rap, dancehall, reggaeton... with a Pacific touch
The people of the southern Pacific have also been influenced by newer tendencies. Rap, ragga, and reggaetón from the US, Puerto Rico, Jamaica, and Panama have been very influential over the decade or so, and a number of Colombian rappers from the Pacific coast have emerged, such as Junior Jeim and Element Black from Buenaventura, and Leka el Poeta, Misterioso, and Master Boys from Tumaco. These artists often represent black Pacific themes in their work, including slang and musical elements. The group Chocquibtown, from Chocó, which has been explicit in addressing Afro-Colombian cultural heritage, has been internationally recognized with a Latin Grammy award, a NARAS Grammy nomination, and other prizes.
"Somos Pacifico" (marimba rap) by ChocQuibTown
Salsa choke
Most recently, black Colombians from the city of Cali, many with ties to the Pacific coast, have begun to popularize a new, urban-influenced style of salsa known as salsa choke, which would come to be hugely popular (in part through the enthusiastic goal celebrations of the national futbol team in the 2014 World Cup).
"Ras Tas Tas" (salsa choke) by Cali Flow Latino
"Puro soye" (salsa choke) by Jr. Jein y DJ Piru de Buenaventura
______________________________________
SUMMARY
1. Black Colombia
2. The Southern Pacific
3. Currulao, the marimba dance
4. Arrullo, a lullaby for the Saints
5. Alabados and Chigualo, music for the dead
6. Black Pacific modernities
Musical illustrations
Sources
______________________________________
by Dr Michael Birenbaum Quintero
© Médiathèque Caraïbe / Conseil Général de la Guadeloupe, 2009-2016